Normally when we make the trek up to Tennessee to see my brother we take I-75 straight up the gut through Georgia and drive like maniacs to avoid the endless boredom that is that highway. There really is nothing to see except for some really crazy religious billboards. Surprisingly that isn't always enough to keep me interested. So this time we decided to take the route that went through Alabama and up I-65 straight to Chris' house. And what do you get with that little trip? Well, you get.....
The Christmas Tree farm in Havana, Fl that had the absolute cutest little perfect pine trees you ever saw in your life. Acres of them! They looked fake they were so perfect.
Acres of giant pecan trees that made me want to jump from the car and have a picnic right then and there. And then immediately fill my trunk with a TON of pecans so I could eat them the rest of my life. Pecan is definitely my number one nut. Followed closely by Luke as the second.
Havana is also home to a tiny little restaurant that looked like a mobile home and it was called: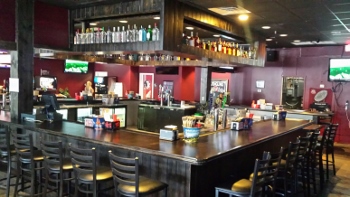 image
Because you know how much rednecks love Hobbits.
Then we hit Alabama and our first stop was at a restaurant called Baumhowers in Montgomery. It was started by some sort of famous Alabama linebacker and was kind of like a more southern version of a sports bar. It is home to the famous "Hot Bama Brown" sandwich, which of course I had to order.
It is deep fried turkey on bread, with mashed potatoes, mushroom gravy, tomatoes, bacon and Parmesan cheese. It was not half bad. The menu claimed it was one of "100 Alabama sandwiches you need to eat before you die." ONE HUNDRED SANDWICHES? IN ALABAMA? I can't even name 100 sandwiches ever! I was puzzled by this accolade.
Here is Luke taking a picture of me and the 'Bama way before I was ready. Our waitress was eternally slow, so we had to forgo the fried banana pudding and get back on the road. Curse you, Tina!
I love this picture too. Here is Cindy protesting our "No mac and cheese as a main dish at a restaurant" policy.
Sorry, but I am not paying $5 for something that doesn't have meat and costs 25 cents to make. But guess what, I didn't even pay $5 for the chicken fingers because it was Wednesday at that restaurant which meant that the kids eat free. My mad savings skills follow me wherever I go!!!
After lunch we plugged in the coordinates for the Birmingham, AL temple into the GPS and were led straight to a big field of nothing. I was a little tired of being lead astray when it comes to temples! See "Oklahoma City Temple Debacle of 2012" for reference. However, we drove through a neighborhood and tried to regroup and then, there it was! The Spirit gives better directions.
This now makes the 14th temple we have visited with the kids. I never get tired of it :)
The temple was having its yearly summer maintenance and was closed at the time, but the parking lot was full of workers and their trucks. Who else would you expect the Church to hire?
Our next big sight to behold was this giant Saturn rocket in Huntsville, AL. I believe this was the Saturn 45 rocket. Davina, I hope you just face-palmed. That was for you.
And finally, we did get to see this fine sign in a field somewhere after that....

Well, it's true. And no one wants to get hacked up by a scythe. To be continued....